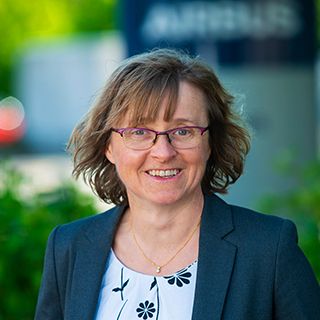 Sue PARTRIDGE
Airbus Head of Wing of Tomorrow Programme
,
Airbus Operations
United Kingdom
Biography
Sue joined Airbus as an undergraduate engineering apprentice in 1989. After gaining extensive experience within the business, Sue held various leadership roles within Airbus Engineering and programmes working across the product range and lifecycle. A highlight was leading the A380 Wingbox engineering team.
From 2010, Sue led the Wing Development activities for the A320neo and A330neo Programmes delivering significant upgrades to Airbus' wings to ensure the on time entry into service of these aircraft.
In 2017, Sue was appointed Head of the Wing of Tomorrow Programme, the largest Research and Technology Programme in Airbus, maturing high performance, low cost and high rate technologies to prepare Airbus for the launch of future aircraft and support the route to decarbonisation.
In April 2022 Sue also became Head of Airbus Filton site.
Sue holds Masters Degrees in Engineering and in Aerospace Manufacture & Management and a Postgraduate Diploma in Environmental Management.
About Airbus
Airbus is a leader in designing, manufacturing and delivering aerospace products, services and solutions to customers on a worldwide scale.
With around 130,000 employees and as the largest aeronautics and space company in Europe and a worldwide leader, Airbus is at the forefront of the aviation industry. We build the most innovative commercial aircraft and consistently capture about half of all commercial airliner orders. Thanks to our deep understanding of changing market needs, customer focus and technological innovation, we offer products that connect people and places via air and space.