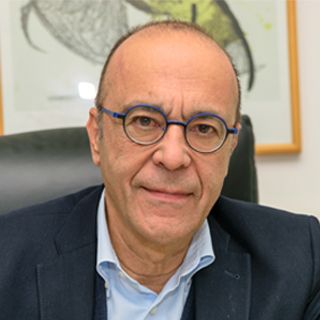 Costas GALIOTIS
Professor
,
FORTH and University of Patras
Greece
Biography :
Costas Galiotis is currently a Professor in the Department of Chemical Engineering at the University of Patras (since 2014) and a Collaborating Faculty Member of the Institute of Chemical Engineering Sciences (ICE-HT) which is one of the eight (8) academic research institutions of the Foundation of Research and Technology-Hellas (FORTH). His research areas are related to Graphene Related Materials (GRMs)/2D materials (Production and properties), Composites & Polymers (Structural, mechanical and spectroscopic characterization of polymers and composites) and Non-Destructive Testing of Materials (World leader in the application of Laser Raman spectroscopy for stress or strain measurements in fibres and composites. Application to both polymeric and ceramic based composites). Up to now, he has been responsible for the management of research projects and main co-ordinator/ partner of over 50 research programmes (funded by CEC, national bodies and industry) of total value of over 100 M€. To date he has handled over 18 M€ for work related to the activities of his own research group (ca. 20 people with very different backgrounds and coming from different countries and with good gender balance). He has vast experience in the areas of composite/advanced materials, graphene-based materials and nanotechnology, and is the main collaborator of the 2010 Nobel Prize in Physics Laurates, Profs. Novoselov and Geim, with regards to the investigation of mechanical properties of graphene. The importance of his scientific activity has been honoured in 2019 with the Aristeion of Academy of Athens in the Natural Sciences, which is the top academic annual award in Greece. Prof. Galiotis is also one of the founding members of the Graphene Flagship and is serving at its Executive Board since 2016. He is currently one of the top-leading experts in mechanics of graphene and its composites, as shown by the regular invitations as invited/keynote speaker, his role as organizer of major conferences and prestigious awards. He is the Editor in Chief of the Journal "Graphene and 2D Materials" (Springer-Nature).
About FORTH :
The mission FORTH/ ICE-HT is:
Conduct forefront scientific research.
Develop innovative technological products and key enabling technologies (KETs).
Cooperate with leading research & development organizations.
Develop strategic collaborations with industrial companies in EU and other countries.
Provide training and advanced education to new researchers.
Exploit R&D achievements through patents and the creation of spin-off companies.