Isotruss® Carbon Fiber Tower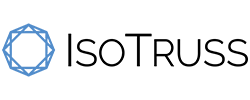 Partners(s): My Learning Alliance, US - U.S. Bureau of Land Management Wyoming, United States – United States Department of Agriculture National Institute of Food and Agriculture (USDA- NIFA), United States - Utah State University, United States
IsoTruss® Carbon Fiber Towers are up to twelve times stronger than steel for a given weight, or as little as one-twelfth the weight for a given load, depending on the design, site and specifications.
The IsoTruss® is a unique geometric configuration based on 2-dimensional and/or 3-dimensional equilateral or isosceles triangular sections comprised of unidirectional members fabricated with composite materials. IsoTruss was originally invented for aerospace applications and is ideally suited in load bearing structures anywhere low weight and stiffness are critical.
Overall, the IsoTruss® combines high performing continuous fiber (such as carbon, glass, aramid, etc.) reinforced polymer composite materials with a very efficient geometry to allow those elements to carry the load efficiently, allowing extremely lightweight and extremely high performance.
Key benefits
Material Advantages: High Strength/High Stiffness/High Durability/
Transversely Isotropic/Radio Frequency Transparent/Corrosion Resistant
Structural Advantages: Resists Shell Buckling/Lighter Weight/Low Drag/
Damage Tolerant/Aesthetics/Eco-Friendly/Corrosion Resistant
Less CF to mfg/lightweight lowers shipping/install costs-reduces CO2 em.by 70%.