In-Process Afp Manufacturing Inspection System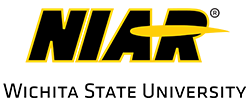 In-process AFP Manufacturing Inspection System (IAMIS) for automated fiber placement (AFP) head to detect manufacturing defects and a user-friendly augmented reality visualization module.
IAMIS detects manufacturing defects that are above the certification basis (or unacceptable) using machine-learning (ML) algorithms for reducing time-consuming and operator-dependent manual inspection processes that require significantly interrupting the manufacturing process. Use artificial intelligence (AI) for analyzing vast amount of digital processing data and geometry (stored in the digital backbone) at each defects location for identifying manufacturing anomalies for optimizing parameters (ex., lay down speed, heat input, compaction force, steering radii, etc.) in order to reduce manufacturing defects on subsequent parts.
Quality assurance through inspections and process controls are essential to ensure that material is laid up and process according to specification with no process-induced defects. Although AFP significantly improve the production rates and quality, due to the lack of reliable in-process inspection techniques, AFP processes are currently interrupted intermittently (20-70% of the production time) for manual inspections, diminishing benefits of automation. In addition, manual inspection processes have deficiencies such as operator/training/environment-dependencies and inconsistencies.
Main goal of this invention is to develop a framework for implementing machine-learning algorithm and artificial intelligence for improving AFP manufacturing rate by reducing the labor-intensive manual inspection and improve the quality through big data analytics (history of inspection data). Most hardware associated with the inspection system was put together by off-the-shelf laser and camera systems. However, the integration of this system for various AFP head configuration is accommodated by additively manufactured compact light-weight bracket and wire management system.
Key benefits
Increase automated manufacturing system utilization (operational efficiency)
Eliminate labor-intensive manual inspections and improve quality
Eliminate human error associated with operator experience levels
Augmented reality visualization for repair and quality assurance
Create a digital record of defects for certification and sustainment support