100% Recycled Cf Spun Yarn and Applied Products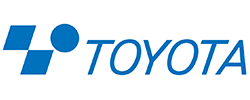 TOYOTA INDUSTRIES CORPORATION (Japan)
Partner(s): Kurimoto, Ltd., Japan - Nagoya University, Japan - NAKASHIMA PROPELLER Co., Ltd., Japan - Toyota Central R&D Labs., Inc., Japan - Toyota Motor Corporation, Japan - Uster technologies AG, Switzerland
100% recycled CF spun yarn compatible to pultrusion process. Establishment of comprehensive CF circulation system from recycling to product application.
Most intermediate materials cannot fully utilize their original CF performance. As a result, only 7% of the CF waste is recycled, so the present CF recycling is not a mature industry. CFRP properties of rCF spun yarn achieve about 70% tensile strength and 90% elastic modulus compared to virgin CFRP. There is no limitation to the process and matrix, and we are the world's first manufacturer that successfully utilizes rCF in pultrusion molding with epoxy resin. Due to wind energy market growth, we expect future rCF spun yarn application to the demand for carbon neutral production for wind power generation blades. Furthermore, we established a comprehensive CF recycling system from CF recovery to reproduction. The innovation for each step in the system is: Recovery: Secured reliable partners to guarantee stable supply of quality. In our process, virgin CF (vCF) waste mainly comes from Toyota Motor Corp. and Nakashima Propeller.
Spinning: Optimized process conditions and mechanical elements of traditional equipment for our material to gain rCFRP quality. Quality Control: Crucial properties for CFRP are fiber length and orientation and CF volume fraction. We implement Uster Technologies' inspection technology, recognized as the world standard for quality inspection in the spinning industry.
Weaving: rCF spun yarn can adapt to air-jet looms, which have high productivity. Molding: Innovative hollow-shape pultrusion with rCF spun yarn is applied by collaborating with Kurimoto, Ltd. Product Application: The issue is to meet our material type certification for marine propeller. We are now working with Nakashima Propeller to solve it.
Design & CAE: Developed a design tool for rCF spun product. For CAE, we developed modeling tools for rCF spun yarn and textile with Toyota Central R&D Labs., Inc. (TCRDL). Established a multi-scale CAE technology that connects the micro (spun yarn) to the macro level (product) by utilizing homogenization theory with Nagoya University and TCRDL.
Key benefits
Applicable recycle CF to pultrusion molding using epoxy matrix
Recycled CFRP highly compatible with virgin CFRP performance
A comprehensive high value CF recycling system
High compatibility for existing process and resin matrix
Low environmental impact