Sheephouse Wood Bat Mitigation Structure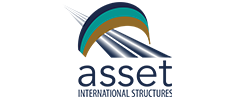 Asset International structures (United Kingdom)
Partner(s): COWI UK, United Kingdom
Provide a safe structure, ensuring the protection of a rare species of the bat using offsite modular construction, minimizing embodied carbon, and maximizing safety using our FRP and concrete units.
Our use of innovative FRP composites for the mesh panels was driven by the design scope. Part of the original requirement was for a minimal maintenance structure to reduce future maintenance costs for the stakeholders which we reviewed and proposed the current adopted design. Using FRP allowed us to create a system that met all the design loadings, 60% open porosity for aerodynamic loads, met smoke and toxicity requirements, created small enough apertures that the bat species cannot enter the structure and allowed for minimal maintenance over the lifespan of the structure.
Finalising a suitable design, we opted for pultrusion as the best manufacturing system giving us easily repeatable components and ensuring consistent quality. We adopted E Glass reinforcing and resin systems from Scott Bader with our resin experts and engineers working through multiple resin/reinforcing matrixes to create a system that gave us the strength characteristics we needed to meet the dynamic, cyclic and fatigue requirements and met critical safety standards in the event of a fire and evacuation scenario.
Key benefits
Showcasing FRP In Major Infrastructure Projects such as underground projects
Protecting the habitat & 13 species of bats including the rare Bechstein's bat
Reduced long term maintenance offering low life costs
Construction time reduced minimising the effect on local population & wildlife
Reduces the construction time thus the overall construction cost