Integrated Loop Technology Bicycle Frame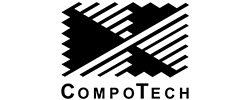 COMPO TECH PLUS SPOL, s r.o. (Czech Republic)
Partners(s): Czech Technical University in Prague., CZECH REPUBLIC
A bicycle frame produced by an automated fiber winding process, incorporating continuous fibre tube joining development "integrated loop technology" (ILT).
The proprietary fiber winding and integrated loop process technologies have been used here to manufacture the interconnected frame sub-assembly parts, namely the bottom bracket shell, chainstays and the top, head, down and seat tubular sections of a mountain bike frame. CompoTech's ILT production processes can manufacture a single large hollow integrated loop end joint or multiple individual loops to accommodate specific fixings and fastener systems. These options are manufactured as a seamless, integral part of the primary carbon fibre epoxy tube sub-assembly, which is joined or attached with fewer post-processing steps. Incorporating clever 3D printed, custom-made fibre pin tooling to create a fully integrated joint hole with no breaks in the carbon fibres. The ILT process eliminates the need for moulding heavier wall thickness sections around a fixture area and for any post-mould machining. It opens up new design options and offers product manufacturers a more cost-effective way to take advantage of the application benefits from using high-performance, lightweight, tubular FRP composite components.
Integrated loop joints are typically formed around a metal mandrel. 3d printed tooling, designed to be removable after curing, is used to guide the fibres as they are placed to form a continuous loop at the ends of the structure. Inserts, such as metal bushings, can also be incorporated inside the looped joint section during production. Continuous wet epoxy resin impregnated carbon fibres are accurately placed and automatically placed in orientations to provide the required stiffness, compression, flexural and torsional forces needed. Once individual components have been fully cured, the tooling is removed and the components are then ready to be assembled with only minimal finishing. A simplified bonding process combines, for example, the head tube with an already formed loop of the top tube and the down tube of the frame front triangle.
Key benefits
More productive than comparative hand built assembled frame.
Stronger joints and efficient material use, eliminating over laminated joints.
Reduced machining – connection designed into the ILT AFL process.
Reduced labour time – higher productivity, lower part cost achievable.