Hydrostatic Membrane Press Technology for Composites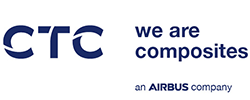 Partner(s): Airbus, Germany, Siempelkamp Maschinen- und Anlagenbau GmbH, Germany
The metal membrane press concept allows for the production of high-temperature thermoplastic composites using a flexible metal tooling side to achieve high laminate quality and production rates.
The idea of the technology is the use of a thin, flexible steel membrane for pressure application in composite manufacturing processes. This pressure is inherently hydrostatic, as the membrane is adapting perfectly to the geometries of the laminate, which creates an even pressure distribution over the whole part. The process pressure is provided by an oil pocket located behind the steel membrane. There is a hard lower tooling in place to provide the general shape of the part to be manufactured and includes stiffening elements for co-consolidation.
With this technology, the disadvantages and tolerance issues of using hard-hard toolings are mitigated. The flexibility of the membrane compensates all thickness tolerances in the laminate, creating a perfect consolidation. This technology also enables the consolidation of a skin structure while integrating stiffening elements such as stringers in a single process. Ramps can also be included on either side, taking advantage of the even pressure distribution as well. This one-shot consolidation and integration step is a major advantage, especially when working with thermoplastic composites. This innovation is a major step forward for high-production composite manufacturing, as it provides perfect pressure combined with an efficient heating concept to allow for very low cycle times.
Energy efficiency and basically no auxiliary materials as well as an everlasting membrane have a positive impact on the eco-efficiency. A single upper membrane tooling is sufficient to be combined with multiple different lower toolings to allow for multiple part geometries and general manufacturing flexibility. One-Shot co-consolidation of skins and stiffeners will save on assembly efforts and further reduce production cost along the value chain. As the process has been in development for many years and transferred to multiple geometries, the technology maturity is also very high and industrial applications are currently being evaluated.
Key benefits
Hydrostatic pressure yielding a perfect processing pressure
One-Shot consolidation and integration for high production rates
No auxiliary materials necessary, which greatly contrasts autoclave or oven
Cycle times of 1h for high-temperature thermoplastics lead to lower energy use
High versatility, as the same upper tooling can be used for multiple parts