Graphene from waste tire for lightweight vehicles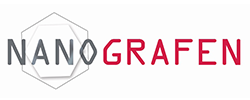 Partner(s): Farplas Otomotiv A. S., Türkiye - Oyak Renault, Türkiye - Ravago Petrokimya Üretim A.Ş., Türkiye
Nanografen produces graphene from waste tires in pilot scale used as a co-reinforcement in compounding process for cost-effective and lightweight automotive composites without changing the mould.
Nanografen develops graphene masterbatch and compounds by reducing the aggregation of graphene in conventional extrusion process together with Ravago, compounder. Nanografen scaled up the upcycling sustainable graphene manufacturing technology by using the recycled carbon black obtained from the pyrolysis of waste tires. Nanografen has a partnership with pyrolysis company and settled up joint work and sustainable value chain. In this process, the conversion of waste tires to carbon black is 35% and the reaction is occurred under nitrogen environment at 450oC by using catalytic bed process.
Also, pyrolytic oil is produced by 40% from this process which is used to generate electricity. 10% of wires is used by re- melting process and there is 15% gas coming from the process which is purged into the reactor to get heat. Pyrolysis technology is occurred in a closed loop recycling. Nanografen gets carbon black and applies aqueous based treatments to get the impurities and activate the carbon surface by catalyst impregnation and then the treated carbon black is exposed to thermal treatment for the conversion of graphene like nanoplatelets. This produced graphene has 9% surface oxygen groups that make extrusion process easy by eliminating graphene agglomeration since graphene acts a compabilizer to enhance its movement through polymer chains. Then, Nanografen together with Renault developed front end carrier part by integrating 1wt% graphene and eliminating 10 wt% long glass fiber in the structure without changing the mould used in serial production.
Electric cars play an important role to overcome the growing needs of automotive industry and minimize the environmental impacts. Lightweight design has gained significant importance to reduce fuel consumption and CO2 emissions. In addition, with increasing number of vehicles, the disposal of end-of- life tires is another growing issue since waste tires in open areas demand valuable landfill space. Herein, Nanografen overcome the needs of automotive sector by providing cost-efficient, lightweight and eco- friendly solutions and accelerate the studies in the development of electric vehicles. Nanografen uses a high technological product of graphene which is produced from waste tires by recycling and upcycling technologies for the development of lightweight hybrid composite parts. In the innovation, Nanografen- Renault developed graphene reinforced front end carrier part by reducing 10 wt% long glass fiber in the structural composite by providing no cost up in the compound and cost-down in part production and Renault validated Nanografen reinforced part for serial production in Megane and Clio cars in 2023.
Key benefits
Sustainable graphene manufacturing from end-of-life tires in pilot plant scale
Lightweight design by reducing main reinforcement and integrating graphene
Ease thermoplastic processing with graphene requiring no additional treatment.
Lowering cost of graphene by using end-of-life tires compared to prime graphene
Large volume production capacity and easily scalable process