Circular Welding Process for Thermoset Composites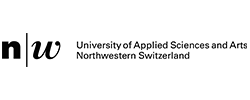 University of Applied Sciences and Arts Northwerstern Switzerland (Switzerland)
Partners(s): HUNTSMAN ADVANCED MATERIALS SWITZERLAND GmbH, Switzerland
A super-fast, reusable welding process that creates high-performance joints between fast-curing epoxy composites involving a co-bonded thermoplastic interlayer that enables the design for circularity.
The developed welding process is based on the attractive approach of using a standard thermoplastic welding process to join thermosets: To achieve this, a thermoplastic coupling layer is created by co- bonding with the thermoset resin. This leads to a weldable surface that can be processed with thermoplastic welding methods such as ultrasonic welding. The thermoplastic coupling layer (phenoxy resin) is utilized as a thin film, compatible with the fast-curing epoxy system Araldite® LY3585/Aradur® 3475 in the sense that it can partially diffuse in a controlled way into the thermoset resin during the 1 min curing time at 140°C.
A recent study demonstrated that the affinity for interphase formation was very high with the Phenoxy resin. The high affinity resulted in the strongest joints, with an average lap shear strength of 25 MPa after less than a second ultrasonic welding, demonstrating the high potential of this joining technique for industrial applications such as but not limited to the automotive, sporting goods, or wind- energy components.
Furthermore, the reusability of the high-performance joints was tested by controlled dismantling and rewelding – allowing multiple lifetimes and a significant reduction of CO2. The results of second-life welding are auspicious, showing high average lap shear strength of 23 MPa. So far, the joining of composite relies primarily on traditional joining technologies such as film or paste adhesive or mechanical fasteners. The innovation allowing structural joining performance combined with the circular concept of reusing the constituents presents key advantages versus traditional methods: The thermoplastic-film positioning in the mould can be automatized and localized. Joint formation requires only a fraction of a second. The joining operation does not require surface preparation/cleaning or structure deterioration (drilling). This allows the production of storable composite parts for further automatic and fast welding applications.
Key benefits
Design for circularity
Fast welding of thermoset composites
Lightweight joint design
CO² reduction by disassembly and reuse