Auto-Teaching Algorithm for Thermography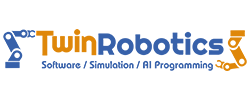 Thermography is a fast way to robotically inspect a composite part. The innovation lies in an auto-teaching algorithm that automatically defines the optimal path(s) for inspection.
The manufacturing industry is demanding more sophisticated robotics. Currently, industrial robots automate repetitive tasks (e.g. automotive ind). Industry4.0, however, demands more flexible, easier to program, and smarter robots that are capable of performing tasks on a small series or parts or even single parts. This flexibility requires being able to define the tasks that the robot must do in a simple way.
The programming of a robot must be able to be done in a few minutes by a person with no knowledge of robotics. Critical composite parts in aeronautics (fuselage, wings, tail sections,...) must be inspected individually. To accelerate this NDT, flash thermography is implemented and then the defects are characterized by ultrasound. This technology has the advantage of being easily robotized. A robot is a means to move a sensor. It has no intelligence and executes a defined trajectory.
Today, a human operator is responsible for defining the inspection path. With classic offline simulation and programming software, this operation takes between 4 and 5 days for roboticists. With our software – AppRob – we offer a digital twin of the robotic inspection machine that reduces programming time to a few hours for experts in NDT and not in robotics. This time saving is already significant but not sufficient for us because the program obtained is always subject to human factors (experience of the person, level of training in robotics and thermography, etc.) Our major innovation is to have developed an algorithm which makes it possible to define the inspection trajectory that is:
Automatic: no operator intervention is required and the result is not subject to human factors
Optimized: the scenario includes only the necessary acquisitions. The machine cycle time is reduced and avoids collisions
Unique to each machine. The calculations have been designed on the concept of the digital twin to faithfully model the behavior of a robot, and the thermography system
Key benefits
Automatic Off-Line Programming (OLP)
Full simulation of Thermographic Machine
No knowledge in Robotics needed
Design a complete Digital Twin for the robot system
Shrink the OLP time to the minimal possible